My first introduction to rowing was during high school as a sports elective. Shortly after my introduction to rowing I joined my local club that had just reopened after 90 or so years of being closed. We didn't have any flash equipment, but we did have a hand full of dedicated rowers that wanted to do as well as they could. Luckily our coach knew many people from other clubs through his years of rowing and we were able to borrow equipment from them so that we could compete in boats that wouldn't give us splinters! I loved the camaraderie that the sport and club gave me but after finishing high school I fell out of touch with it and instead focused on working and university studies.
In August of 2019, after some heavy encouragement from my family, I reached out to Richmond Rowing Club (TopRow's Partners) about taking up rowing again. Thankfully the people in the sport are incredibly welcoming as I was timid to join a club where I knew nobody. I quickly moved from casual rowing into competitive rowing and fell in love with the routine of training and hopping on to the Yarra in the morning or in the evening. For me, rowing quickly became an obsession and is a fantastic way to get outside, have a bit of freedom in the city and to get moving. 
After a short season, due to lockdowns, at the state championships I won 2 gold medals in individual categories. I'm thrilled with the opportunities I've received and how rowing has moulded my life and can't imagine not being able to do it.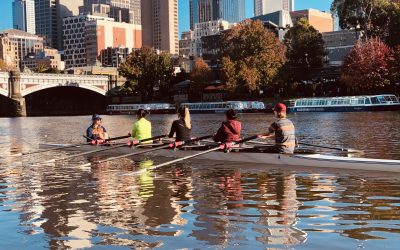 In high school rowing seemed daunting and inaccessible. Only ever picked as a goalie in netball for my height, I had decided that team sports, and sport in general, wasn't for me by age 13 or 14. When the opportunity came around to try for the rowing squad, I went...