Last summer in London, TopRow opened a rowing centre near the river Thames. Amsterdam based coaches Willem Crul and Caitlin Smith were given the important task of setting up the first rowing lessons. A big undertaking for the young students.
"We took a leap of faith and it was worth the risk" says Caitlin excited in the cafeteria of Rowing Centre Berlagebrug (location TopRow Amsterdam). It was by chance that the 21-year-old Artificial Intelligence student came to London. "My original plan was to go to New York to pursue a minor and teach rowing classes as a side-job. Unfortunately, due to unforeseen circumstances that fell through. Jasper (Smink, owner of TopRow red.) offered me the chance to work in our newest London location for about a month or so. I tend to say 'yes' to a lot of things and good things happen when you say yes."
Passion
Caitlin had a leg up on her colleagues since she lived in London until the age of 8. She was raised bi-lingual and could reside with her family in London whilst she was working there. The young history student and colleague of Caitlin, Willem, didn't have the resources or benefits that Caitlin enjoyed. "Caitlin informed me about the opportunity and I was looking a summer side job" he says happily, continuing "In rowing, I noticed people share the same passion and interest. If I can help people and put a smile on their face, I have reached my goal. And the added bonus is that I get do this in London ha-ha", he says smiling.
Strong current
"The strong current on the Thames river proved to be quite the challenge" says Caitlin. "Making the necessary preparations and giving the first lesson wasn't exactly smooth sailing." She continues "In the beginning I made the mistake of not knowing how far I could go down the stream before I realized it was time to turn around and head back. Also another challenge arose when I did not take the water-level into account which resulted in me hitting a sandbank. The rules of the water are a lot more complicated than in Amsterdam" she closes.
Improvisation
The challenges weren't just on the water. "In Amsterdam we make use of, what we call, a rowing tank. Eventually we found a way to replicate this by going into the water ourselves and holding the boat on each side. This gave our learners a chance to get familiarized with the stroking techniques without the added pressure of making speed" says Willem.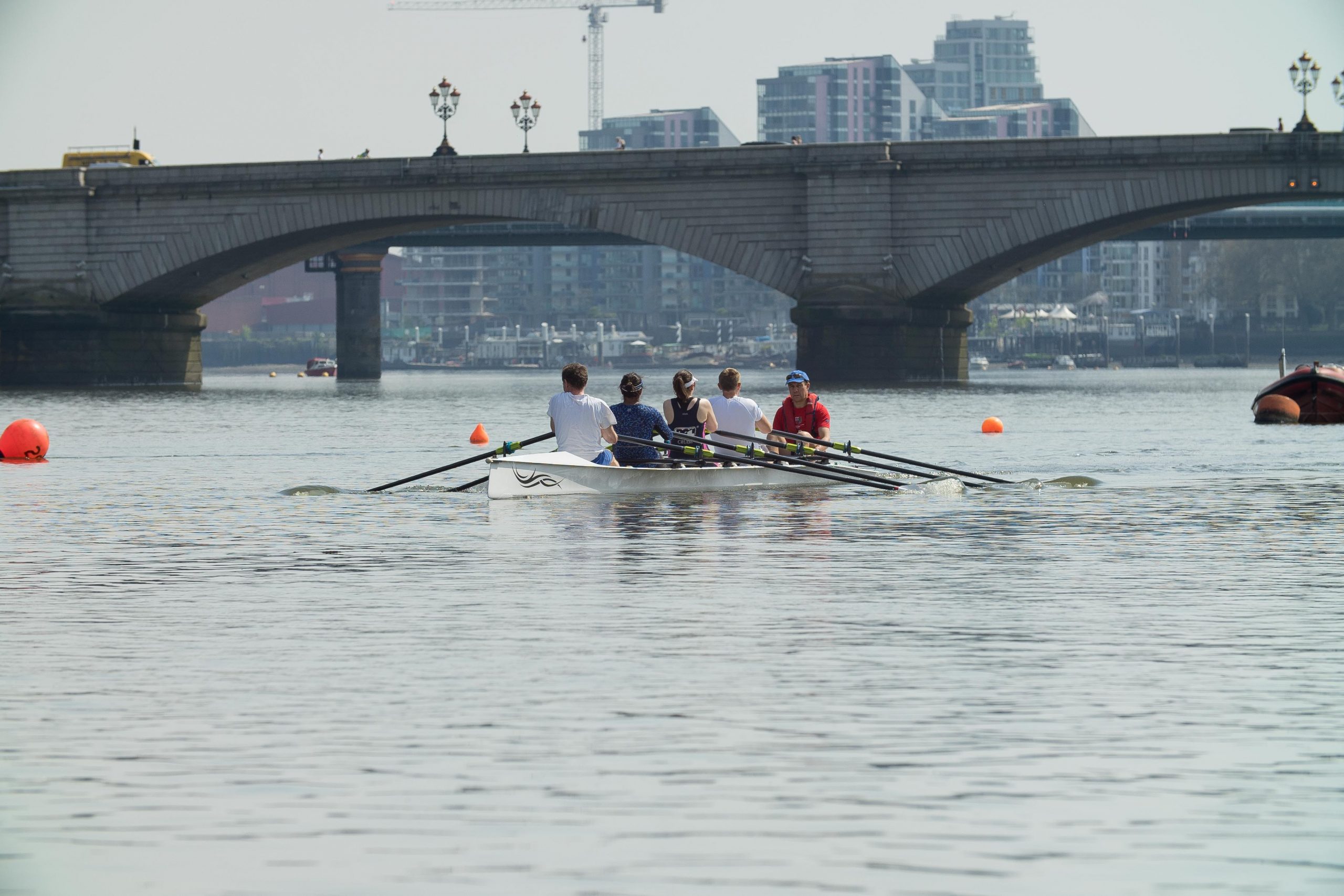 Coordination
Aside from the challenges we faced on the water, the administrative part proved to be a challenge as-well. "The person responsible for this part went on his honeymoon as soon as we set foot in London. We received cancellations through e-mail which went to our Amsterdam location. By the time we would receive the information here in London, it was already too late. But we overcame this obstacle as-well by working closely with the London Rowing Club. This is also where our boats are stored."
Promotion
The rowing courses proved to be popular. "If you have never rowed in your life, you will not be able to join a rowing club like in The Netherlands. Here in London, the existing rowing clubs only take new members who are experienced rowers. TopRow fills the void for beginners and everyone wants to learn to row. Since then, other clubs have began offering rowing classes for beginners but its usually on a small scale and its hard to find these places. We started promoting our courses on a large scale and even got mentioned on the radio" says Caitlin.
Pioneering
Both Caitlin and Willem trained the new staff members before leaving London. "We wrote a standard protocol for new staff-members. I think the company runs smoothly now. Looking back on it, I think we were pioneering!"
Experience
Caitlin and Willem look back on their experience feeling fulfilled. "It was quite the undertaking for me being in London by myself. It has helped me be to become more independent. Near the end of our journey, I resided with a couple of students, which was a lot of fun" says Willem smiling. On the other hand, Caitlin enjoyed the solitude. "I have especially enjoyed learning first-hand how to set-up something and making it work. I know have more knowledge of how a company is built. That is something I will take with me for future references."