Frances Green describes her path into rowing as "unconventional." She spent the first six decades of her life as an athlete in all kinds of sports, but has spent much more time on horseback than in a boat. When TopRow New York City first opened in the fall of 2018, she found our website and decided to come give rowing a try. In her own words, she was "hooked immediately." Since then she's continued to row with us and travelled to sculling camps along the east coast to develop her skills. 
Fran also started erging to build strength and stamina, becoming a self-described "erg freak" who loves erging in it's own right and not just as a tool for rowing. She began entering local and regional erg competitions in 2018 and consistently placed in her age category. In 2019 she was visiting her grandkids in southern California during the World Indoor Championships in Long Beach, thought to herself "why not enter?," and ended up winning her age category! She travelled to Paris in February 2020 to compete at the World Indoor Championships, once again medaling in her age category.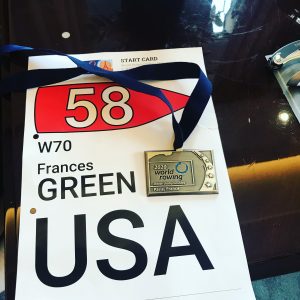 Given her accomplishments on the erg, you might expect those to be some of Fran's best rowing memories. While she's certainly proud, Fran says her favorite memories are more tied to the boathouse than to competitive accomplishments. The first time she experienced the camaraderie of an 8+ particularly stands out, though she says the "sounds, smells, sights, all of the boathouse atmosphere" is still her favorite thing. "It's not easy to get such a diverse group of people – ages, body types, skill sets – to row well together, which is part of what makes this such a special place."
Fran becomes even more impressive when you meet her and realize she's built much more like a coxswain than a rower. This mighty lighty is competing with and often beating women nearly a foot taller than her, even though she only started rowing at 68 years old! In her words, rowing is "virtually ageless," and the low-impact and full-body nature of the sport allows her to keep developing her skills and fitness in a way that isn't possible with other sports.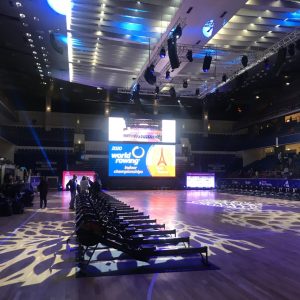 Fran recently began taking our Private (Zoom) Lessons on the erg as a way to continue to develop her technique and improve her splits. Even though it wasn't her original goal, Fran says her mental state is what's improved the most from the private lessons, as she's able to be much more focused and calm on the erg. Coach Milan's imagery of "bubbles under the erg" (instead of the boat) has really helped her find the connection between the erg and the water, and the combination of support and corrections have provided her a great framework for continuing to improve. Fran is still training hard and looking forward to resuming both erg competitions and on-water rowing, whenever it's safe to do so.