My name is Niki van Sprang and I am a (former) TopRow Amsterdam instructor and current Dutch National Team Member (Heavyweight men's double). In this new rubric I catch up with former teammates from my time at the University of California Berkeley. Today we start with Morgan Hellen. When I first arrived in America Morgan often had to act and translator and English teacher as I was still struggling with the new language. What followed were for years in which we never raced a race without each other with as highlights a National Championship in 2016 and a Royal Henley regatta victory in 2015. Now I'm curious what he has been up to since.
Hey Morgan, thanks for taking the time for me. Let's start with the most obvious: What have you been up to since our paths parted at Cal?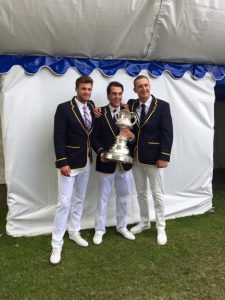 Since we parted ways, after our USA collegiate victory, I returned to Great Britain. Here I continued to row, initially with the GB development team. We formed an 8+ that raced Henley Royal Regatta in 2016 where we narrowly lost to the Dutch National team 8+ in a fantastic final of the Grand Challenge Cup! Following this I went on to stroke the GB 4- to victory at the FISU World University Championships in Poland. 
Off the back of these successes I was invited into the British Senior Men's team to start training under Jurgen Grobler. A relatively short international career, where we crossed paths at a few international regatta's, but essentially I struggled to return to the sport after a shoulder injury that required major surgery. Simply I wasn't reaping the rewards for the investments I was making in the sport and decided in early 2019 it was time for me to hang up my oar.

I was very sorry to hear that, I always loved seeing you at the international races, as well as your family who have supported us at so many American races! So how was to transition into non athlete life? Was it hard to reinvent yourself?
Initially it wasn't an easy decision to make and one that I spent a lot of time dwelling on. I gave myself some time away from the sport and went skiing, the truth is that I had missed out on a lot of life experiences and it was great to finally have some freedom from the gruelling 6-7days of training per week that I had been used to since my late teens. 
After the break it was now time to focus on the next stage of my life, and there has been only one thing in my life that I have felt as passionately about as rowing and that is entrepreneurship and having my own business! It was now my mission to follow this path and if there is one thing that rowing has taught me, its that hard work, works.
I am now developing an app that will hopefully give back to the rowing community. We want to bring audio-guided workouts directed by Olympic athletes! I wish I had access to this app back when I was on the rowing machine 5 times per week. We already won a business competition from NatWest (Big UK bank) and we are now focussed on the next stages of the apps development!
Would you say that you found a new passion or goal that managed to fill the gap rowing left?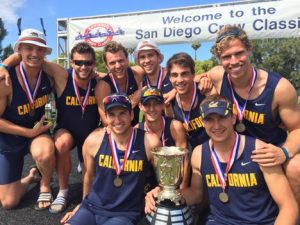 Finding a new goal was exactly what was necessary. It felt strange to know exactly want you want to achieve and when that was going to happen to having a completely open ended goal. But now two thirds of the year later I feel confident in my decision and direction.
It's comparable to rowing sure, I'm fully accountable for what happens in my life good or bad and the harder I work, generally the better the outcome. But it's also very different to rowing because I was never the one writing my training program. These days I am completely in control of my own schedule, thats exciting! Right?
So tell us more about where the idea for Rowith came from and what it does?
Firstly I have always hated erging, I think everyone does. Its really hard, repetitive and boring! Secondly after finishing my rowing career I knew it wouldn't be a good idea to go from training 6 days a week to absolutely nothing. I decided I was going to start running, I went on my phone and downloaded all the running apps out there. I came across one called the Nike Run Club and it honestly made me fall in love with running. Essentially, Nike provides guided runs from athletes and coaches. They coach and motivate you through the workout and I began to think wow this would have been perfect for the rowing machine!
I teamed up with Chaymae Samir my co-founder, also a Nike Run Club fan, to develop Rowith! Rowith is providing audio-guided erg workouts from Olympians and athletes from a variety of sports. It's an amazing way to hear the athletes story, have them motivate and coach you as well as challenge the online Rowith community to workout with you.
So now the most important question: Do I have to become Olympic champion before you're interested in me?
Haha! Niki I am certain you will be Olympic Champion so we definitely want you to give a workout! But all jokes aside it's about telling amazing stories and we know you have a great story to tell. You are an amazing team guy and know how to get the best out of all your teammates, from the best to the worst guy. On top of this you held a few world records on the ergo so we're pretty sure you know what you're doing! Our members would love to hear your tips!
Haha thank you and yes I had weird hobbies as a kid… Whats the next step now for you and rowith?
Right now were raising money through our crowdfunding campaign (www.crowdfunder.co.uk/rowith) we need to successfully close this campaign to helpmake Rowith a reality! If anyone want to find out more, you can read all about the app on the crowdfunding campaign page or follow @rowithapp on Instagram and Rowith on Facebook!
Alright last question already just for nostalgic reasons and you are not allowed to think too long: favorite memory together?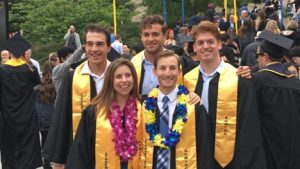 By far the toughest question as we share so many good memories together! Though I will have to say it will always be winning the USA National Championships with you. It was something we worked to achieve for 4 years. We raced every single race together and it payed off big time to finally get the win!
True that was a special moment! Thank you so much for taking the Time and good luck to you and Rowith!