Last week, a womens-eight from Nereus won during a sparring session on the Thames of Cambridge, whom will face Oxford on April 7th in the annual Boat Race. This so-called fixture was organized by the Dutch-trained coach Astrid Cohnen, currently the assistant coach of the 'light blues'.
"Imagine that our eight in Britain has won all they have started so far. We use the fixtures on the course of the Boat Race to practice competitive situations. Nereus was able to come up with six medal winners from the last World Cup under the age of 23, so I knew for sure that they would have a strong boat. That would help us. "Cohnen explains on the telephone from Cambridge.
Recruitment
"I also hope that this will show Dutch rowers that studying here isn't a bad idea. Although the trend is to go to the United States with an athletic scholarship, here you can participate in an unique event and ditto program. For example, the women's group is quite international with a fairly large number of Americans, a Swiss, Danish and a Spanish girl. Everyone who has studied here, will careerwise get to be where he or she wants to be. Companies are standing in line for people who have studied here."
Repack
Her wish for a strong competition came true in London. Nereus-octet annihilated the women of Cambridge in the first part of the two kilometers. "We were not prepared for that and our rowing was bad representation of our current standard. But they recovered well and pushed through. On the second leg they were, despite the less than favorable position in terms of curves on the finish, only a quarter behind. They learn a lot from this, lagging behind can also happen during the Boat Race and then you need the right tools."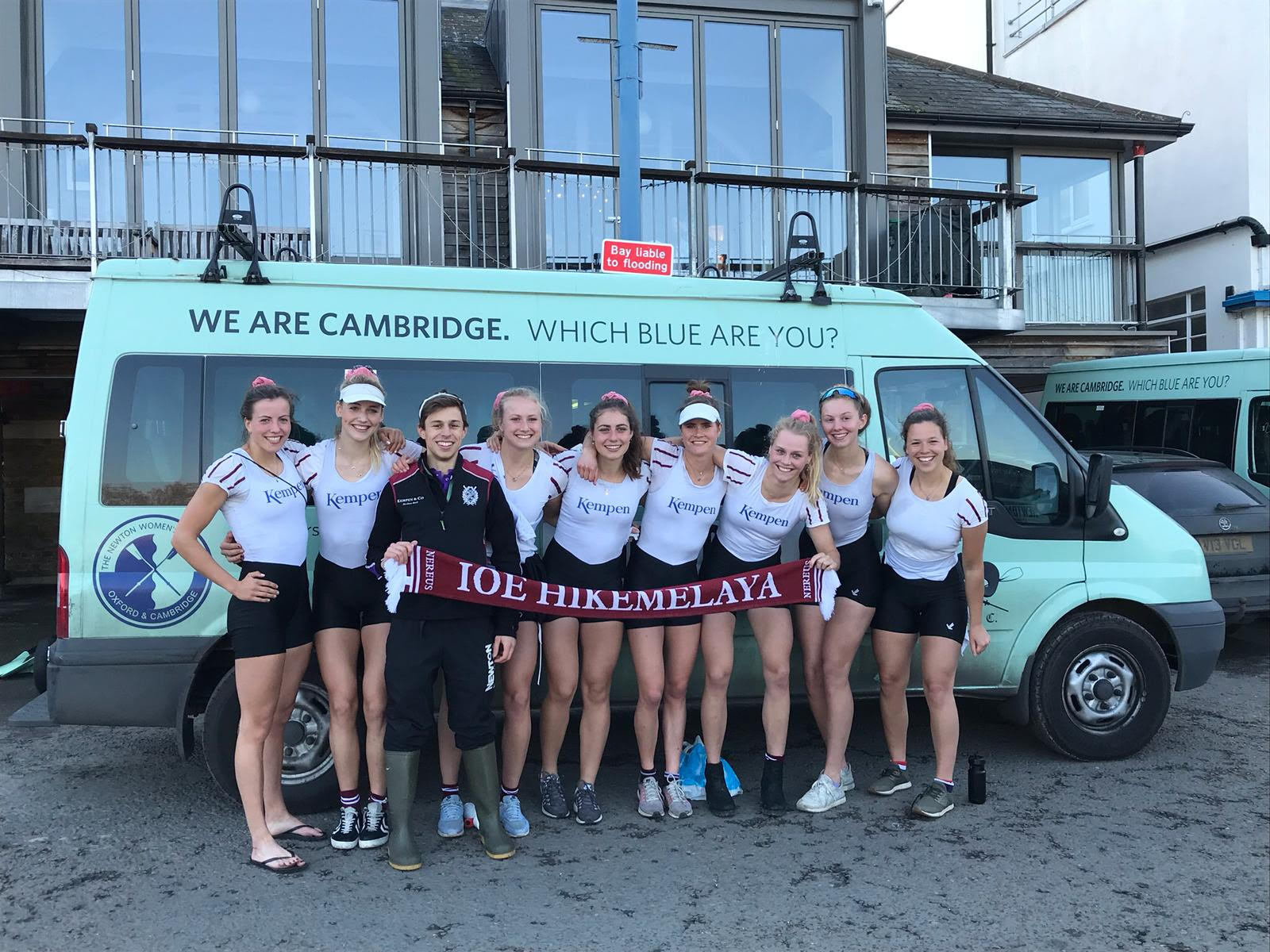 Vicarage
Cohnen, who works in the Netherlands as a paid Skøll and Laga coach, is usually busy coachingthe lightweight men and women rowing a week before their Boat Race against eternal rival Oxford than the official event on April 7th. "I was hired as an assistant to the American head coach Rob Weber. Occasionally I do ergometer training for the heavy women's team and I am a kind of pastoral worker. I regularly check in with them and see how they are doing, have a cup of coffee here and there. My opinion is also valued with regard to setups and selections."
Perfectionism
Cohnen, born in Germany, is referring to the very ambitious study climate in combination with the heavy training regime. "In the Netherlands people already think that the study pressure is high. However, that is nothing compared to here. They also train twelve times a week. All our rowers are perfectionists and their own worst critic. They are highly focused on rowing, studying, navigating between classes, training locations and home.
Logistics
According to Cohnen there are quite a few differences from her previous coaching job in the Netherlands. "First of all, a club like Cambridge has a much larger network. From board members to sponsors and influential ex-rowers. Many supporting groups want to help and share their advice about the teams. You must be able to focus on the goal at hand -putting the athlete first- and maintaining this goal. The logistics side is also much larger. In Dutch student associations, a board or a committee does most of the heavy lifting. Here we have to do everything ourselves: from the transport of the boats to taking care of repairs of the boat."
Diving board
The former rower of Saurus and Skøll left for England for a fresh start. "I wanted to prove myself somewhere else. "In the Netherlands I had the feeling like some minds were made up about me and I did not want that for myself. I went to find the joy in coaching again. By going to another place with the same skill-set – in which I still have great faith in – I could start over and redefine my way of working and collaborating. Coaching in Cambridge is an amazing experience and I'm very happy that I created and seized this opportunity. If this leads to other opportunities I would be very happy, but for now my rowers and the Boat Race are the highest priority."